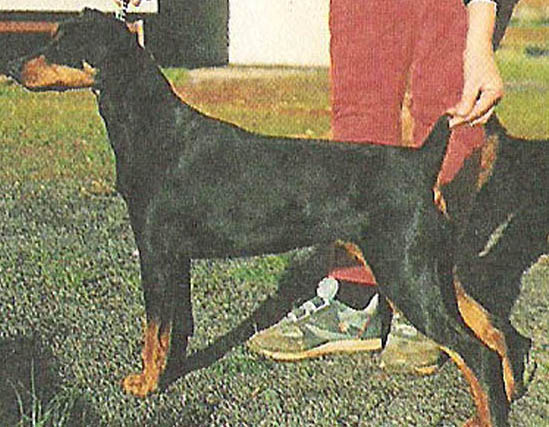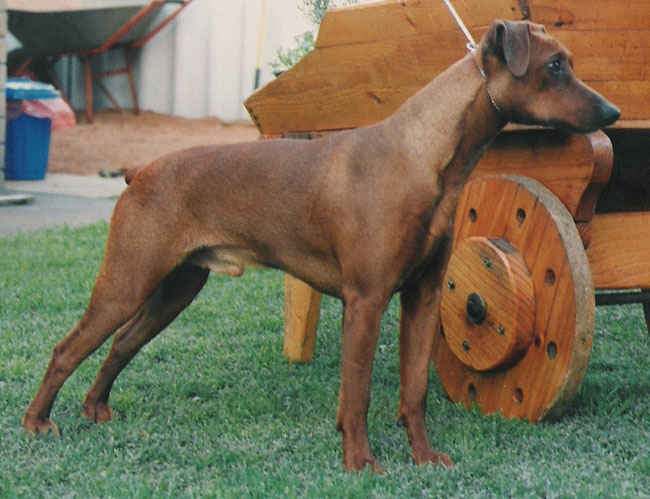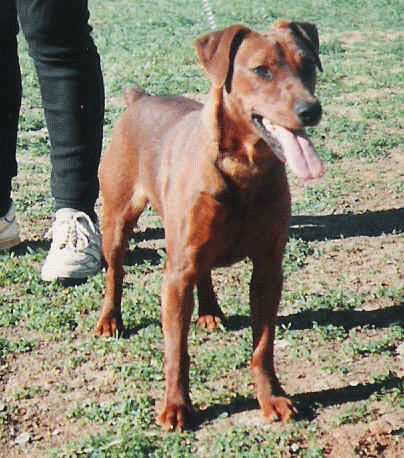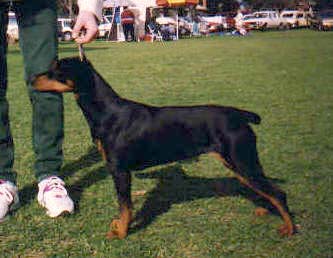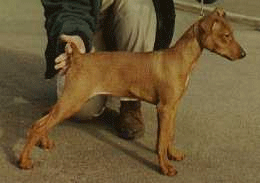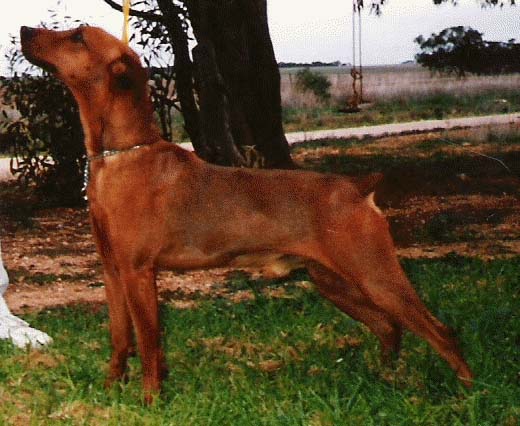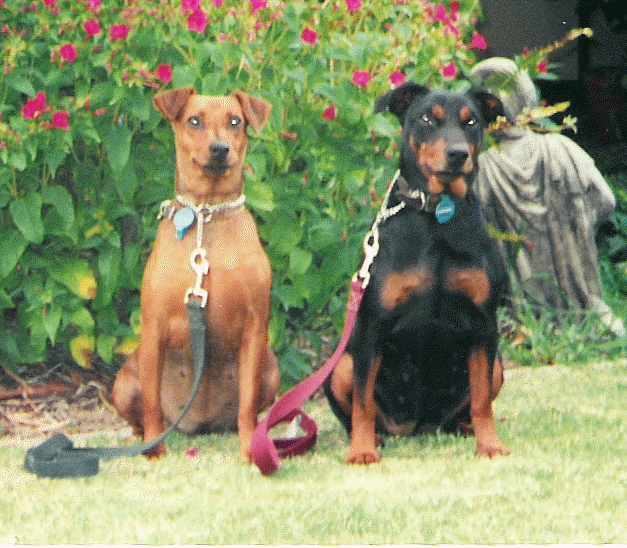 Ch. Masterkarn Fire Cracker


"Britta"


Britta was the first Champion bred for Masterkarn kennls in 1991. This bitch was graded excellent by a visiting judge from Finland judging at the Adelaide Royal show 1992. Britta was the female version of her father in type with a lovely stable temeprament full of can do attitude and feared nothing.
Britta passed at 6 years, she was killed by another larger dog. She only produced one litter before this accident. An un

f

o rtnate time and huge set back of years planned breeding program for this kennel.
Ch. Masterkarn Wind Stalker
"Axel"
Axel was the first male GP to be sent to WA for Elstenberg kennels and gained his title easily. Axel was very much his father in temperament, colour and type.
Axel went on to retirement on that note after producing the dog Elstenberg Fox Mulder whom left his mark on this breed and is in most early pedigrees in Australia.
Masterkarn Widow Maker


"Sam"


Sam was the only dog to continually beat Gus and was descibed as "a perfectly proportioned dog, nearly perfect in confomation" describing Sam by the last judge to go over him (very much like his grandfather except for head type ) . He never gained his title as he was shot in a chicken coup by a farmer after he escaped with his mother. Both his mother and him were lost that day. We never got to use him at stud.
Masterkarn Wind Dancer
"Bridgett"
Our youngest daughters first dog and show dog. Bridgett continuously gained

9 point

Challenges in the ring and beat both Gus and Sam for

BOB

at 9 months old.

BOB at Toowoomba Royal

at 10 mths-

11 point

challenge. She won under All breeds and visiting Specialty judges.
Bridgett did not title as our family situation changed and so did Bridgetts by the time she was 12 mths, all show ring activity was stopped due to pressing family and work commitments.

Masterkarn DrestfSuccess
" Tess"
Tess is Raquel's second German Pinscher -she was to be a performance dog.
Tess was so excellent at this Raquel decided she would be a pure obediance dog and not a show dog. Tess was trained in Obedience to

CD

level. Also trained in

Agility

-first Australian Pinscher to ever be trained at this level.
Tess was a faithful companion until she passed at 14 years while she shared her home with children and other animals.

Ch. Masterkarn Black Rose
" Prue"
Prue is the first Obedience and Agility trained German Pinscher in Australia. She was handled to her Championship title by her 14 year old owner.
Raquel trained both Prue and Tess to thier

CD

level and

agility

level just as this sport was developing in Australia.
Prue passed at 13 years in Raquels' arms.
Ch. Masterkarn HotternHell
"Chelsea"
Chelsea was the foundation bitch sent to WA to Wilma Howard of Elstenberg kennels. Chelsea titled easily in Australia and competed in WA & Qld. She was the BOB winner in Europe in 1998 and the first in Australian history to do so. Chelsea was also the dog used to model the US Nationals winners prize plates sketchings were all based on Chelsea. Chelsea was our evidence our breeding program was on the right track.
Lankirk Seriously Sloshed (Imp UK)
"Bundy"
Bundy arrived In Australia in 1996 from Dorothy Morrison of Lankirk kennels in Wales.
Wilma Howard of Elstenberg kennels is the co owner with John and Anita Fryer of Masterkarn kennels.
This dog produced the first

Best in Show All breeds bitch

in the UK. Due to a mishap this dog was desexed by its new companion owners before any other progeny could be produced.

Masterkarn puppies!


"Mystic, Sam & Shelby

"


This is a typical Masterkarn litter but an ill fated one. The young bitch center (blk/tan) was Masterkarn Dream Weaver the first show GP to be shown in WA but while being campaigned in SA passed unexpectedly with a twisted bowl (rare in this breed). Chelsea was her good faith replacement. The red dog on your right, is Masterkarn Window Maker killed during his escape into a chicken farm. The only
survivor
is a happy dog that passed at a ripe old age- Mystic.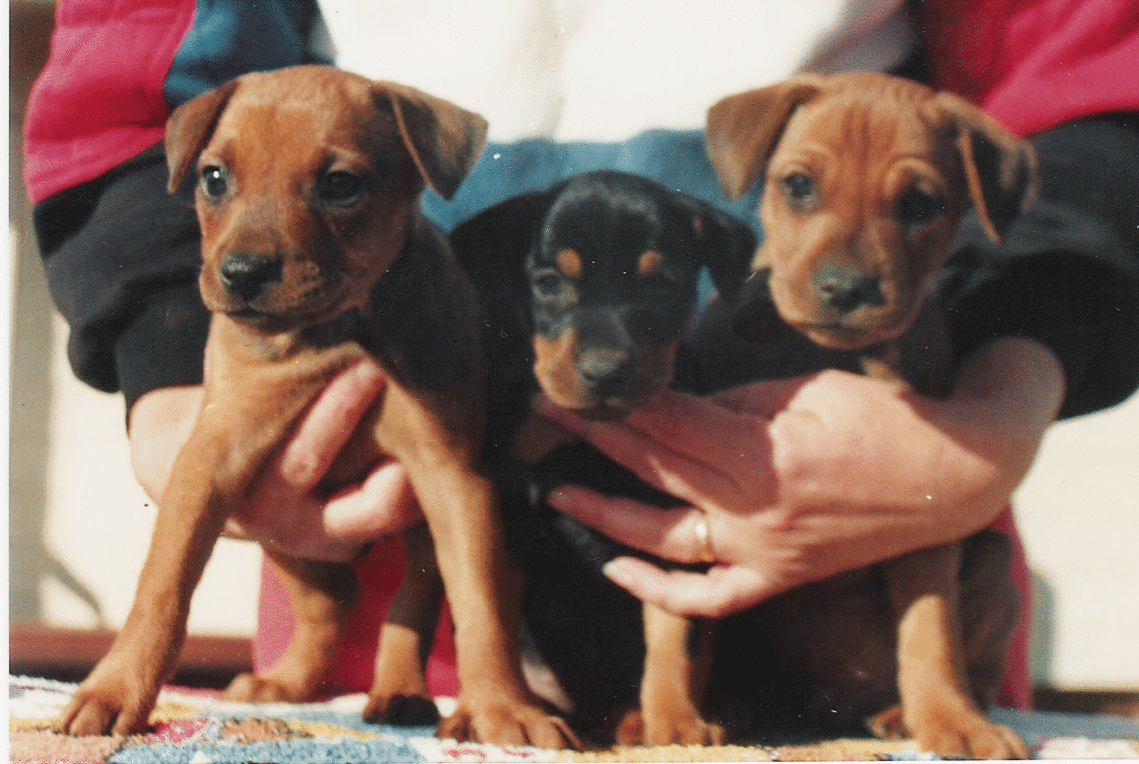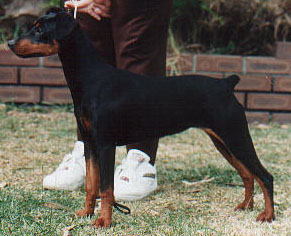 Our Rainbow Bridge GP's...
Below

are our spcial Pinschers that are waiting over Rainbow Bridge for us.
Some are champions in comformation and others highly trained companions. Two were owned by a 14 year old girl and all are missed so sadly.


Our other foundation dogs are down the bottom of the page in thier own section.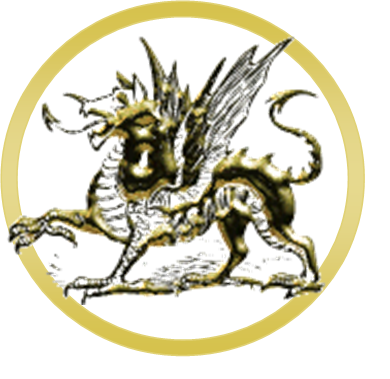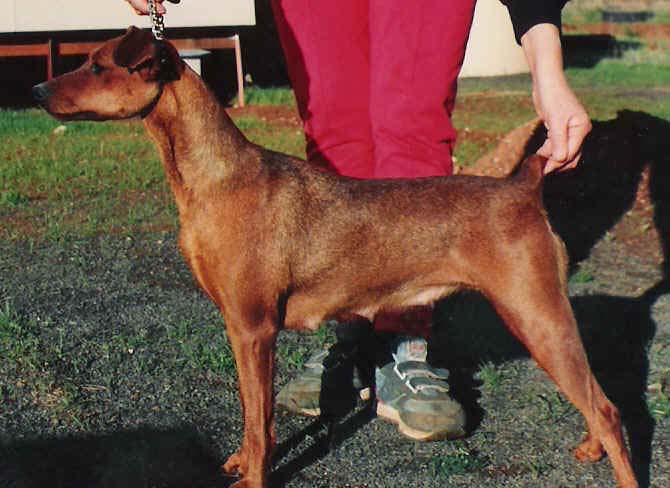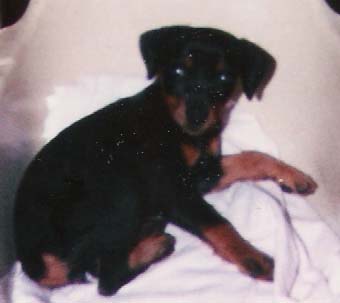 Ch. Deutschpin Black Lace


"Lacey" "AKA Laylay"

A wonderful companion to me and the beginning of our kennels and a love for the German Pinschers we had waited so long to see in Australia. Lacey passed at 14 yrs and is very sadly missed by us.

Many will remember her!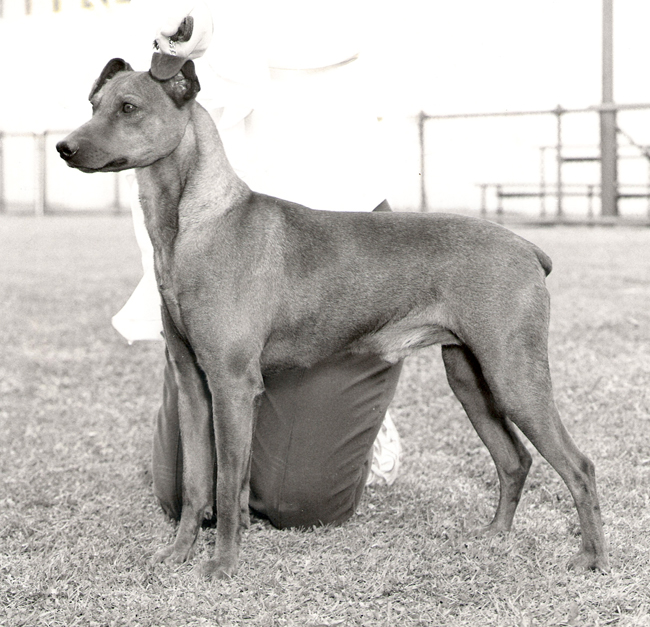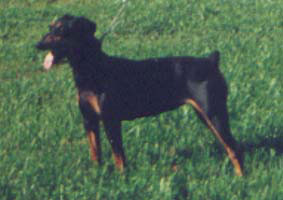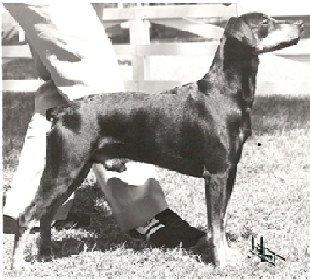 Ch. Mieterpin Monique
"Monique"


Monique was our second bitch as foundation and bought in the French "De la Cappelliere" lines for us.

Bred By M. Feltham.
Ch. Mieterpin Gustav
"Gus"


Gus was our first male as foundation and bought in the French "De la Cappelliere" lines for us.


Bred By M. Feltham.
Marie V Cronsbach


(Imp Gmy)
"Marie"
Marie was the foundation bitch for the Australian GP with a wonderful temperament.
Imported by P & S Hopper and Mrs. H. & Mr M. Towell

Bred By .E. Gropekathofer
Von Cronsbach kennels.
Ch. Puck V Cronsbach


(Imp Gmy)
"Peter"
Peter was the foundation dog for the Australian GP. Those that knew him will not forget him. Imported by Mrs. H. & Mr M. Towell.

Bred By .E. Gropekathofer
Von Cronsbach kennels.
---
Our

FOUNDATION dogs

and the first German imports and foundations of the

German Pinscher

breed in Australia.
(Both later owned by

Masterkarn kennels)

.