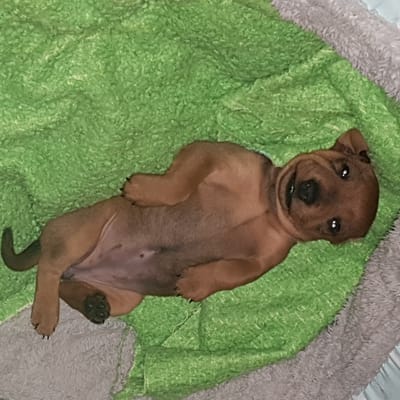 ~ Puppies available from Masterkarn!! ~ Est 1984
Puppies planned
for 2022
You will need to reserve your beautiful, happy puppy as we are often booked out early. I would hate for you to miss out.
See our
adult and rehome
dog page for older dogs and
breeding plans
for pups available, if something older would not suit you..
Our puppies are home raised in a family friendly home with their dam and are well socialised when they leave us. Vet checked, inoculated and their parents are health tested for suitability to breed. We
supply a Puppy
info booklet for help with training and feeding your pup/adults.
If you are interested in a puppy from us:
• Can you provide a good and lasting home?
• You understand what the breed is regarding their guarding/ hunting/prey drive?
• Do you have commitment and time for the dog and it's training?
• You must understand that puppies and young dogs are time consuming during all growth and life cycles?
• You must ensure that children are not allowed to handle your dog in anyway that is not suitable for a puppies well being, A puppy/dog is not a toy, ever.
Our GP's
Our GP's are Australian (see
females
,
stud dogs
and
males
) and
Imported
lines, carefully bred for health, structure and temperament. Suited for performance, family and show dogs. click here for
About German Pinschers
. Read about
German Pinscher Health
.
Show dogs from us do very well in the show ring winning, classes, BIG and in show wins. Historically we have produced top winning dogs producing many genuine deserved Champions and our show pups can be shipped internationally.
Family dogs - $3,500
Show Dogs - $3,600.00
Adults for show POA.
Puppies are able to be reserved with a deposit.
Worried about shipping? We can easily ship dogs to all states in Australia.
See our
breeding plans/
litter page
for more info or call us after 7.30 pm and before 8.30pm 0409493988
*** See our
Contact Us
page to fill in a
contact form
and we will get back to you..